Regular Facility Hours of Operation (including the track):  Mon - Sun 6 am – 10 pm
Clean indoor running shoes required for activities on the turf, gym, climbing wall and other venues
Wrist bands from Guest Services required, to attend all SLS FSC drop-in activities.
What's new at SLSFSC!
Please click

here

to see more news and updates about our daily programs!
*Attention*
Due to customer comments and requests, after school Sticks and Pucks is now open to all ages.
A maximum of 25 people are allowed in any one Sticks and Pucks session so PLEASE ensure everyone checks in at Guest Services to get their wristband BEFORE putting their skates on (we do check for wristbands).
Also please remember helmets with chinstraps are mandatory for everyone.
Please check our schedule online or our daily facebook posting to see the times for Sticks and Pucks.
Thanks and happy skating!!
Our new

FitKids holiday camps

have just opened for Registration!
Have you ever wondered how the ice gets put in the rink? Check out our our new time lapse video on how they put in ice!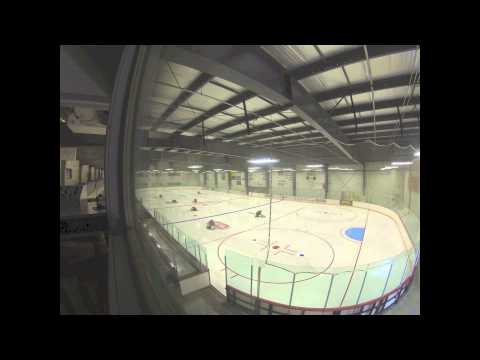 Available Ice Report
Trying to see what ice is available to rent? Check here for available time. E-mail bookings@slssportscentre.com to book your ice.
Late Night Ice Rate 2013/2014
Adults, Corporate Teams or private groups, book your late night ice starting at 10:15 pm and pay only $165/hour (plus 5% facility enhancement fee). Why drive to Calgary when you can play close to home? Check here for available time. E-mail bookings@slssportscentre.com to schedule your fall/winter ice today!
Wrist-band Policy Now in Effect
We are implementing a wrist-band policy for some of our popular drop-in activities such as Public Skating, Sticks and Pucks and Kid Zone. All Guests are reminded to check-in at Guest Services and obtain a wrist-band prior to proceeding to your drop-in activity. Guests may be asked to show their wrist bands prior to entry and/or during drop-in activities. We appreciate your cooperation.
Ice Patrol
For guest safety during peak hours, we have implemented Ice Patrol. Our Ice Patrol will provide assistance to patrons, ensure adherence to arena rules and regulations and check for wrist-bands. Ice Patrol staff will be identified by a reflective safety vest.
Kid Zone Bouncer Schedule:
LOCATION: East Gym
2-10 year old Drop-in: Sunday 10.00am – 2.15pm (3 bouncers)
Parent and Toddler Drop-in: Monday 10.00am – 12.00am (1 bouncer plus various sporting equipment)
Birthday Parties at SLSFSC:
At SLSFSC we know birthday parties are special. We offer several party packages suited to your child's interests from Kid Zone Bouncers and Gymnastics Parties to Ice Skating and Gym parties. To find out how we can make your next birthday extra special, please e-mail birthdays@slssportscentre.com. Our Birthday Party coordinator would be happy to assist with planning your child's big day!
Child Minding:
Our Child Minding Centre is a value-added service for our members using the facility. Our bright and clean Child Minding Centre is available for you to leave your child while you take an exercise class, participate in a drop-in activity or workout in the gym. As a courtesy to other members, child minding services are limited to a maximum of 2 hours per child and are provided on a first-come, first-served basis. Fees are not included in your membership. For more information, please click here.
Your feedback is of great importance to us. If you have any questions, concerns, or general comments please fill out the form below and we will address it accordingly.
Thank you very much!